Winter Math And Literacy Worksheets For 1st Grade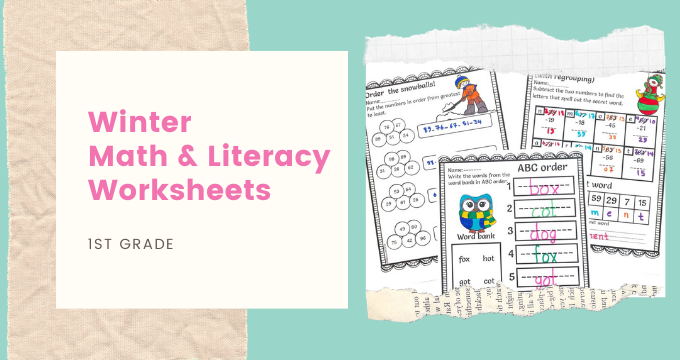 Winter Math and Literacy Worksheets For First Grade contain 77 practice pages. This winter-themed packet is perfect to use through the months of December, January, and February!

This resource includes two sections :
Math Activities
======================================
• Addition and subtraction with regrouping and without regrouping.
• Missing number
• Counting to 120
• Numbers and number words
• Place Value
• Odd or even
• Order the numbers.
• Comparing the numbers.
• Graph.
• Measurement
• Time
• Geometry
• Word problem
• Fact Families
• Make ten
• Roll, add, and color
Literacy Activities
======================================
• ABC Order
• Plural Noun and irregular plural noun.
• Parts of speech
• Spell the winter words
• Sight word
• Contractions
• Winter Syllables
• Verbs
• Word shapes
• Opposite
• Compound words
• Complete the sentences
• Form a sentence
• Writing
How to save these free
Winter Activities – Math and Literacy Worksheets:
Click and hold (Mac) or right mouse click (PC) on of the image below until a dialog box appears.
If you are using Internet Explorer, select "Download image to disk." If you are using Google Chrome, select "Save this image as."
A box pops up asking you where you want to save the image to. Navigate to the folder in which you want to keep your images.
Usually, you'll want to rename the image, giving it a name that will make sense to you a few months down the line. In the "Save image as" box, change the name of the picture to the name you have chosen.
If you are working on a Mac, also make sure that the name you choose ends in .jpg (if you are using a PC it will automatically insert this extension for you).
Click on the "save" button. You now have an identical copy of this worksheet.
If you like this worksheet, click on the picture below to check out the Winter Worksheets.
Winter Math and Literacy Worksheets
pin for later:
Check out this winter word problem packet: