Daily Math 1st Grade Worksheets For Christmas Time Freebie
Christmas Math Worksheets 1st Grade includes practice pages with a variety of problems that are reviewed on one page.
Christmas Daily math review allows your students to practice and review their math skills in grade 1 during December and Christmas.
In addition, each Christmas themed practice page contains 8-11 problems. They give your kids a chance to revise concepts that they have been taught or expose them to ones they have not yet learned.
Therefore, use these printable Christmas Math worksheets as homework, or practice work to review the Common Core standards.
Skills included are:
Place value.
Two-digit addition and subtraction.
Compare the numbers.
Telling the time.
One more/one less.
Ten more/Ten less.
Word problem.
Geometry.
Graph.
Count by 2's,and 10's.
Count to 120.
Fact families.
Order the numbers.
Word form.
Expanded form.
Missing number.
Make ten.
Ten frames.
Measurement.
Fraction.
For instance, download this free printable Christmas math practice page:
How to save this free Christmas Math Worksheet – Daily Math 1st Grade Worksheets For Christmas Time:

Click and hold (Mac) or right mouse click (PC) on of the image below until a dialog box appears.
If you are using Internet Explorer, select "Download image to disk." If you are using Google Chrome, select "Save this image as."
A box pops up asking you where you want to save the image to. Navigate to the folder in which you want to keep your images.
Usually, you'll want to rename the image, giving it a name that will make sense to you a few months down the line. In the "Save image as" box, change the name of the picture to the name you have chosen.
If you are working on a Mac, also make sure that the name you choose ends in .jpg (if you are using a PC it will automatically insert this extension for you).
Click on the "save" button. You now have an identical copy of this worksheet.
This freebie is part of a complete Christmas Daily Math Practice Pages.
Click HERE to see the complete Christmas Math Worksheets.
Pin for later: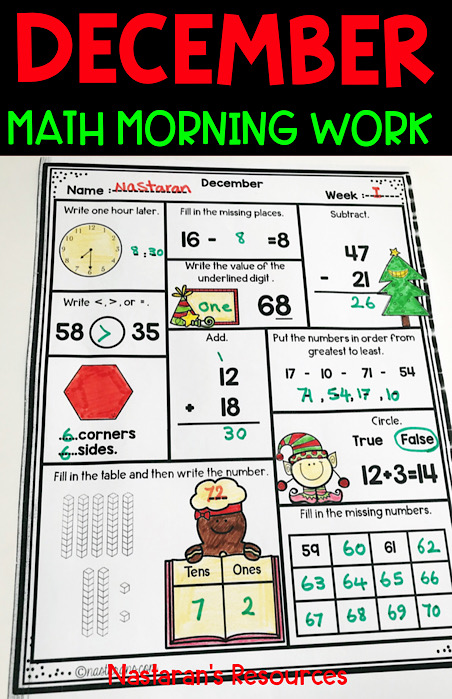 Free Valentine's Day Math Worksheets For Kids
Valentine's Day Worksheets Math and Literacy