End of Year Student Awards:Editable,Superlative 
The end of the school year is a very exciting time for both teachers and students. Celebrate the end of the year with these Editable End of Year Student Awards!
End Of The Year Awards includes 56 pages of award certificates.Blank certificates are also included in both color and black/white so that you can customize the award titles. Choose from a huge selection of over 50 end-of-year awards for your students!  Text boxes have already been placed for you. You can change the size of the text boxes to fit your needs. You can also replace the font size and color.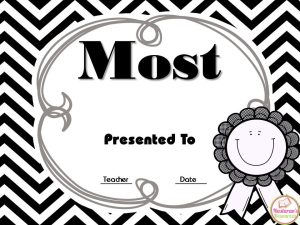 You will need Microsoft PowerPoint 2011 or the newer version to use this.
End of Year Student Awards include:
1. Best artist
2. Best Singer
3. Best Actor
4. Best Actress
5. Best Manner
6. Best Mathematician
7. Best Problem Solver
8. Best Writer
9. Best Speller
10. Best Storyteller
11. Best Reader
12. Best Friend
13. Best Listener
14. Best Smile
15. Best Leader
16. Best Cleaner
17. Best Volunteer
18. Best Helper
19. Best Speaker
20. Best Debater
21. Best Dancer
22. Best Athlete
23. Best Notetaker
24. Most polite
25. Most creative
26. Most improved student
27. Most friendly
28. Most sharing
29. Most responsible
30. Most reliable friend
31. Most caring
32. Most organized
33 .. 50. Blank certificate
51 ..56. Blank B/W Certificate
Pin for Later:
If  you like these awards, Click Here or the picture below: